EYE EXAMS AND SERVICES
Protecting and enhancing your vision are our top priorities. If you have any concerns regarding your vision or eye health, please call right away for an appointment. We're always happy to answer your questions and discuss treatment options.
COMPREHENSIVE EXAMINATIONS, INCLUDING
Computerized visual examinations, which increase the accuracy of your prescription
Glaucoma detection
Retina evaluation
Cataract detection
Visual field examinations
Contact lens fitting and training
CONTACT LENS FITTINGS
Dr. Dolven, Dr. Hutchins and the staff are knowledgeable in the proper fitting of all types of contact lenses including soft and rigid gas permeable materials. Among the many types of specialty lenses routinely fit are soft toric, soft and RGP bifocal, and lenses for medically necessary conditions (i.e. Keratoconus).
EYE DISEASE TREATMENT
Dr. Dolven and Dr. Hutchins are Optometric Physicians that specializes in the treatment and management of eye disease, including dry-eye syndrome, cataracts, glaucoma, age-related macular degeneration, and diabetic eye disease.
LASIK/REFRACTIVE SURGERY
Refractive surgery for vision correction has risen greatly in popularity over the last decade and, in fact, is a great alternative for many with vision problems. James Eyecare & Optics Gallery is partnered with TLC Laser Eye Centers and their surgeons to provide the best in vision correction for our patients. Our doctors provide initial consultations and pre-testing for the surgery as well as follow up care after the surgical procedure.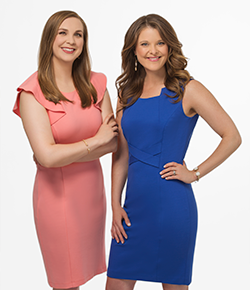 Meet Our Doctors
Dr. Dolven is originally from Gosnell, a small town in Northeastern Arkansas. She completed her undergraduate studies at the University of Central Arkansas in Conway and graduated Cum Laude from Northeastern State University Oklahoma College of Optometry in Tahlequah. She joined James Eyecare & Optics Gallery in 2011.
Dr. Kathryn Hutchins is originally from Kingwood, TX, but spent most of her childhood in Little Rock, Arkansas. She graduated high school from Mount St. Mary Academy and went on to graduate from Baylor University with a Bachelor of Science in Informatics. Following her undergraduate studies, Kathryn attended optometry school at the Southern College of Optometry in Memphis, TN. She joined James Eyecare & Optics Gallery in 2018.